Getting to the Root of an Insurance Offer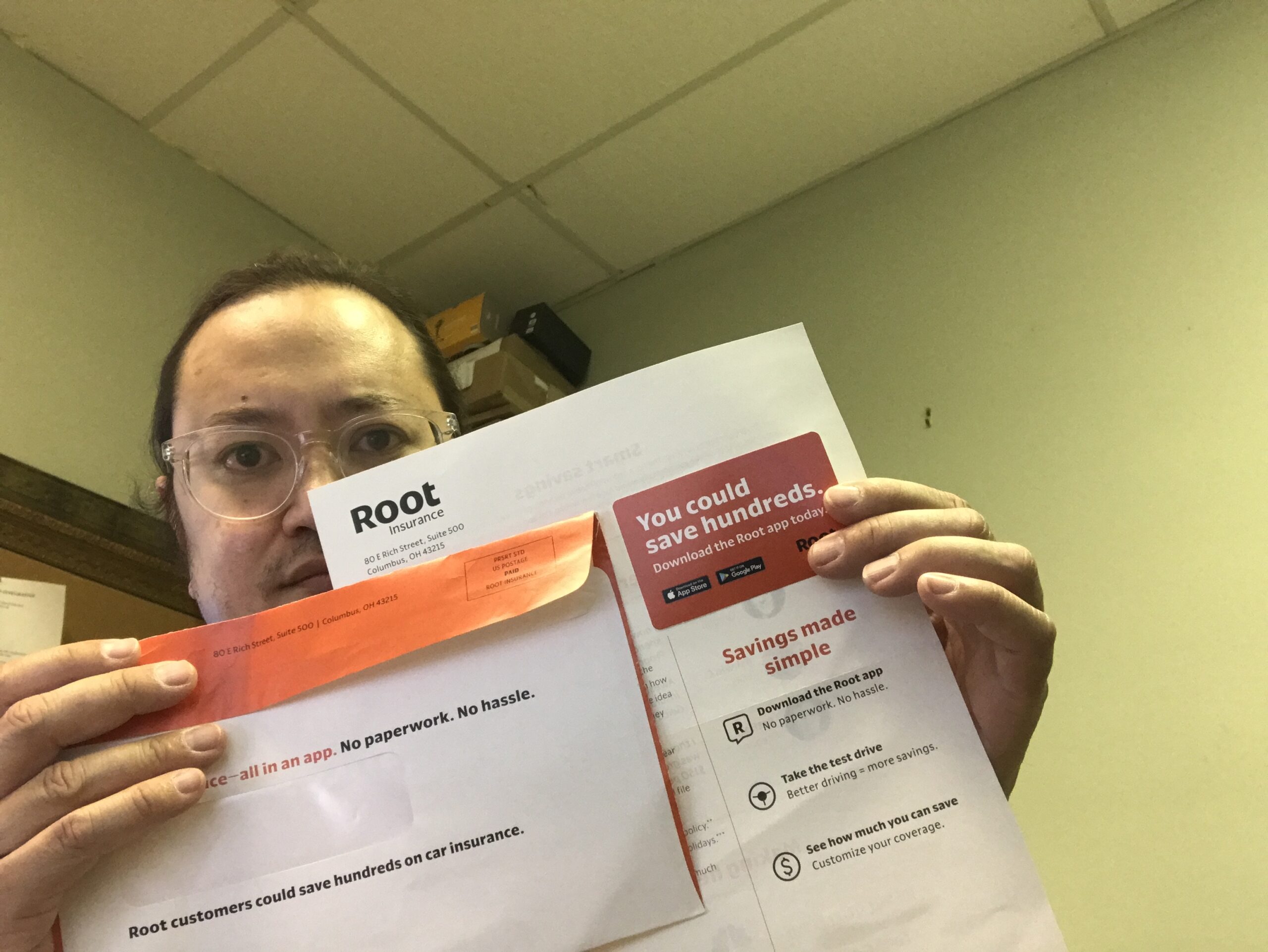 The Mailer
Insurance is the product you don't wish you had…until you do. But like any other product it is constantly evolving but is all evolution good? I get reminders in the mail box of all the evolution.
The latest reminder I got was an envelope from Root Insurance. On the front of the envelope it reads "Car insurance – all in an app. No paperwork. No hassle." On the. Back it reads "Looking to save hundreds on your car insurance? Look Inside".
So I looked inside. Inside is a card that tells me to "download the Root app today". But strangely there's no QR code to do so. You have to search for it which of course brings up advertisers like Cover Insurance before you get to Root.
The welcome letter opens with how the company is different. It claims to be the first insurance company to use telematics primarily – i.e. determine your rate by tracking how you drive via an app on your phone. It also touts financial savings, ease of use by everything being app based, and extras such as road side assistance / lyft credits.
Finally it lists the steps you need to take to get started. Download the app, take the test drive and see the savings.
The back of the sheet is largely more advertising. It has testimonials and media logos. That's it. There's nothing more explaining the company or offer so you are left to do some research yourself.
The Research
Doing some research on the internet, I found more about Root. There's many differences between Root and other insurance companies. The reviews also explain more fully what you are required to do. I read reviews on Nerdwallet and Valuepenguin. Nerdwallet had an advertising disclosure.
The first difference is Root claims to base your rates on telematics, i.e. how you drive. You have to install the app and then let it track your driving for three weeks. It's tracking braking, speed, turns, and the time of your driving. Root still take into account demographics, driving record, and credit however they are reported to be of lesser emphasis.
After the three weeks are up, Root sends you a quote or a decline. If you accept a quote, most of the documents are app based however paper insurance cards will be sent in the mail. It's also reported that while Root tends to not cover high risk drivers but does offer SR-22.
So what to make of all of this? What follows is my opinion of all of this. There are several issues I have with this insurance model which emphasizes simplicity and savings via the app and use of telematics. The following is my opinion.
My Opinion
Telematics doesn't tell the whole story. There may be reasons why you have to hard break, tight turn, and have variations in speed. Stop and go traffic, avoiding accidents, and reacting to other drivers are good examples. Root doesn't define what it's looking for in 'time of day driving' or 'ride smoothness' but a lot of those factors are out of one's control and how you deal with them is just as important as the factors themselves. Insurance, to me at least, isn't about safe driving or avoiding accidents, it's whether you are likely to file a claim or not and that's something that traditional insurance companies use predictive analytics to determine rates for. You can be the worst driver but very affluent and thus cover a fender bender on your own while a someone lower middle class might have to file a claim for the same accident. Telematics doesn't give the same data as including demographics does. Predictive analytics exists for a reason. It gives you a wider space to have more factors considered in your quote.
Customer satisfaction is reportedly an issue with Root. Both Nerdwallet and Value Penguin report that Root has a poor customer service reputation with the National Association of Insurance Commissioners (NAIC) for surcharges and delays. I have not done the research on their status with NAIC myself. The review at ValuePenguin notes that Root's claim process may be an issue. For me personally when I have an accident I am pretty stressed and the actual process with claims can make all the difference.
Time is an issue for me. Root requires a 3-week test drive which means there's no fast track to getting insurance if you have an immediate need. That's something that isn't disclosed in the mailer. Insurance is all about meeting needs when life changes as far as I've ever experienced. Life rarely changes on a 3-week time table for me.
Finally, insurance to me at least isn't 1 dimensional. I'm looking for good and consistent customer service, someone who will keep me grounded during an accident / claim, someone who offers additional coverages like ride share, gap insurance, and other insurance coverage as well as a fast quote with fast coverage completion – three weeks is too long to wait just for a quote. So for me I'll stick to traditional insurance.
References:
Glover, Lacie. Root Auto Insurance Review 2021. Nerdwallet. https://www.nerdwallet.com/blog/insurance/root-insurance-review/
Resendiz, Joe. Root Insurance Review. Value Penguin. https://www.valuepenguin.com/root-car-insurance-review