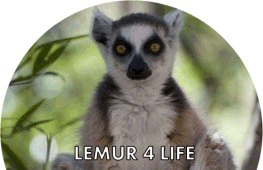 In the Summer of 2014 I started to take an active interest in the plight of the endangered animals called "Lemurs". Pictured above is a promotional "Memur" generated by the Island of Lemurs: Madagascar website.
Lemurs are endangered animals that live almost exclusively in Madagascar. They are in danger of extinction.
There are some states that allow them as pets,  like Florida, Wisconsin, and Texas. There are often Lemurs for sale as pets on those states.
The closest I'll get to a 'pet lemur' though are the stuffed Lemurs I have on my shelf, gathered mostly from Ebay, a trip to NYC, and well, Ebay.  Leapin' Lemurs!
For my birthday, the Imax Corparation's in-house marketing department sent me a 27×40 Island of Lemurs poster, two 13″ Island of Lemurs posters, a bookmark, bumper sticker, and two cool T-Shirts.  It was the best birthday gift ever!
One day I hope to visit the Duke University Lemur Center or even Madagascar and dance w/the Lemurs!
The best video of Lemurs ever, cut from "Island of Lemurs: Madagascar":