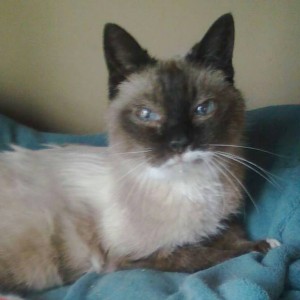 Meet Kiki – the Wonder Cat. Kiki I have adopted Kiki, an abused, abandoned and neglected 13 year old snowshoe Siamese cat who's rear legs don't work very well. You can see from the photo below that  Kiki supports herself with her front legs.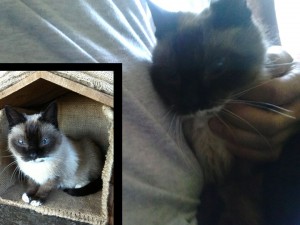 The first thing Kiki's vet asked me was "what possessed you to take on a cat in her condition" and I told him that I have a heart for animals.  I heard Kiki's story and I couldn't just say "no".
She was used for breeding, and then abandoned, has suffered trauma (hit by a car or physical abuse).  I have to empty her bladder out myself each day. Kiki has bladder / liver / kidney problems and requires much care.
Kiki is a very special cat with very special needs, from a prescription diet to a lot of attention.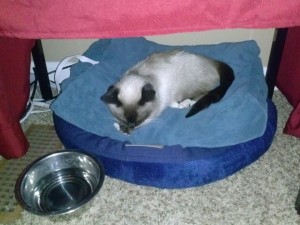 Kiki may only live a month or may live many years, but whatever time we have, I want to make the most of, and help give her the best quality of life she can have. Kiki has a lot of love to give and needs a lot of love.
That is Kiki resting up against me. Vet bills will be high.  On our first vet visit 2 days ago she was put on prescription food for her kidney / liver / bladder,  but I am hopeful she will make it through the month. Kiki has to support herself on her front legs. Kiki had a lot of interest at first, and then as her condition worsened, interest went down. 
According to her fosters, 1 other person didn't want her because of her condition, and another took her but didn't take care of her. They may not have wanted her but I did.
In Kiki's first two weeks with me, she's found a home underneath a desk that has a pet dog bed and a warming blanket given to us by her foster family. She seems to be very very happy under the desk.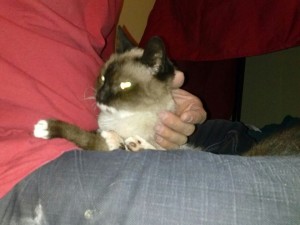 Kiki doesn't have it in her to play but I put some toys by her bed anyway, just so she feels like any other cat. She likes to take a short walk from her bed to under my bed. It's not a big walk for most cats but for Kiki it's quite the accomplishment.
Kiki still needs help,  I 'express' her bladder twice a day, make sure she has 'fresh food', and use milk to relieve constant constipation which Kiki struggles with.
We are… #teamkiki
Update: On 1/11/2016 after a long battle with chronic kidney disease,, Kiki passed away in her sleep. She was on her favorite electric blanket by a space heater. Her temperature had dropped to 90 degrees, she had just battled fur loss / skin infection and her eyes had stopped producing tears. Through it all though she was happy, purring, and content. We spent a night sitting together, she was very happy and responsive on my lap. I believe she died happy and peacefully.  We only thought we might have a month, we had nearly a whole year!
Thank you – from Ron and Kiki #teamkiki

Kiki was under the care of Mobley Veterinary Clinic Clinic at  4709 Gallatin Pike, Nashville, TN 37216, Phone:(615) 262-0415 . We highly recommend them for anybody. They took good care of Kiki to the end. 
I also found a wonderful community of people at FelineCRF that is very very helpful and supportive – and educating me about what to do with Kiki and how to make our 30 days together the best they can be if we are only given those 30 days.