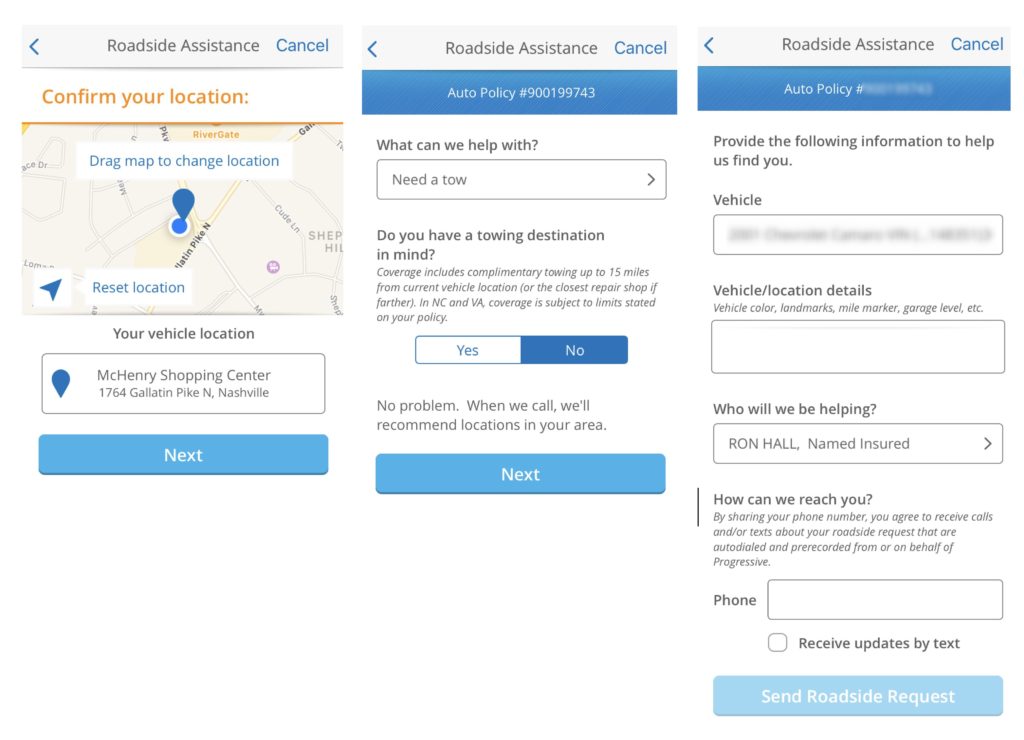 I never thought of an insurance carrier's app as a perk until now. One of my biggest stressors is when my car won't start, breaks down, or otherwise needs roadside assistance. Whenever I call, I'm already somewhat stressed, freaked out, trying to re-arrange my day, and assessing how late I will be somewhere.
It gets worse when I am asked a ton of questions, the person on the other side of the phone can't hear me in the call center, and the call center person has to talk to the towing partner who has to talk to dispatch… and then I'm asked again the same questions over and over.
Yesterday my car would not start after a morning of meetings at different locations. I started to call the Progressive Roadside Assistance phone line but was already frustrated with the "phone tree".  There had to be a better way.
I knew what was coming – several questions which would stress me out more because I would have to repeat myself. Enter the Progressive App which has Roadside Assistance. In a few short simplified steps:
I logged in and pressed the 'roadside assistance button'
GPS pinpointed the exact address I was at and I confirmed.
I picked from a dropdown what service I needed and keyed in where I was going.
I confirmed my vehicle (if you only have one this would go even faster) and keyed in my contact info.
The request was sent. All before the phone line would have connected me to an agent.
The best part – within seconds a text appeared with the towing company and ETA.
Very simple, blood pressure didn't go crazy, stress didn't kick in, I put my backpack on, walked to Taco Bell and waited for my ride.
The best part of the app was that my stress and emotions stayed level. No "are you somewhere safe, what was that car color again, did you try to start the car, what's wrong with the car again, hold on while I do X Y Z". Just…tap tap key send….and voila…. I called my mechanic, let him know the car was on the way, and worked out my ride.
I landed on Progressive as an insurer because I use an independent agent which means he's not beholden to any single insurance company and can shop me around fairly regularly. I am saving money on a constant basis. If you are interested in finding out if you have the lowest rate and best value for your policies, you can head on over to my agent, Martinek Insurance Services and begin a quote request. Going independent has many advantages beyond just bundling which is the only advantage I can see with a single company agency. Going independent means someone who's got your interests front and center, not a big company's interests.  Many of us choose agents based on friends or relatives that once sold insurance, and once they stop selling or change careers, our insurance often remains at the company they were with for years if not decades. It never hurts to shop around! Maybe your next carrier will have perks you never thought just as I encountered!