Trailer → Camper → Building = The TCB Farm
Coming out of being effectively homeless, I have my primary residence property in the White House end of Springfield, about 15 minutes away from the White House Kroger / Highway 76 / Loves Truck Stop somewhat near Cross Plains as well.  I am looking for either private or small business entrepreneurs willing to put in bids for these jobs. I run a small business myself. I am also looking for referrals, you can submit either a bid or referral below.
---
Debris Removal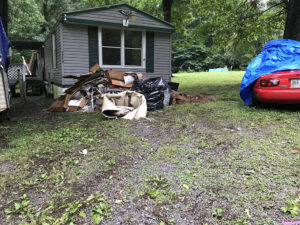 I have a pile of debris. I've moved it by hand in armloads once from one location in the yard to another. This is pictured in front of a single-wide 1014 sq ft. mobile home for scale / size.
It's primarily debris from renovation of the mobile unit including old tile, old wall, flooring, subflooring, a roll of carpet, etc.
I do not know the actual weight or volume of the debris.
---
Window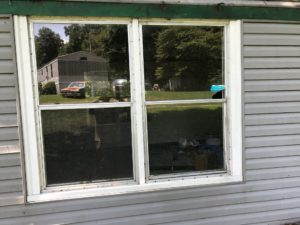 I have a window on the side of this mobile home. The glass itself needs repaired or replaced. There is a chip missing from the lower right corner of the upper right glass pane.
I do not know if this structure being a mobile home creates additional complications or not but this needs to be fixed as soon as possible.
I do not want to replace the entire window frame if possible but also realize the whole window, not just the missing pane may need replaced. There may also be something wrong with the lower left pane as the HVAC servicer covered it up.
---
Mobile Home Skirt & Insulation
This mobile home needs new skirting installed and insulation underneath to protect the plumbing. The crawlspace has already been cleaned corner to corner, end to end, underneath by me, crawling around, sometimes laying flat, with a rake and trash bags. It's a single-side, 1014sq ft. It may require additional insulation as well but that may be a separate job. See YouTube video above for a walk-around or click here to view directly on YouTube.
---
Camper Leveling & Renovation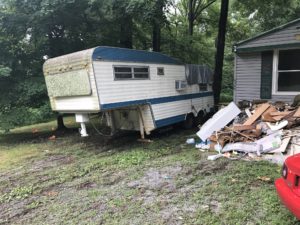 I have a camper parked in front of the property. It doesn't have built in leveling jacks. I'm open to suggestions here. One such suggestion was to do 4 car jacks, 2 on each of the wheels on the downward sloping side, then put something under the wheels. This camper will probably never be moved until full renovated or sold.
There is a roof leak as well, see the tarped section. That leak ran down the side and destroyed one whole wall. That also needs repaired. I am uncertain the total cost of that.
These are two separate projects. I would settle for jack-leveling for now.
---
Small Building
I have a small building. It is wired for electricity. I have spent some money making sure the wiring is safe. I would like to slowly renovate it. Here's the outline I've been given:
Use hydraulics to carefully lift the structure
Re-do the foundation once it's lifted
Run septic and water lines to the structure from the main structure to this one.
Begin to renovate the inside with floors, potentially frame & drywall, paint, and re-roof
What we want to do is preserve the existing structure but at the same time create something pretty amazing.
I really am open to how to go about this while still preserving the existing structure. Preserving the existing structure in some capacity is paramount.
The bids I am looking for primarily right now are hydraulic lifting and masonry for the foundation. I am also looking for potential flaws in the plan. I am certain there are quite a few.
See YouTube video above for a walk-around or click here to view directly on YouTube.
---
Details:
Please contact me at 615 878 4480  / 646 226 4073 or use the form below. You may also email me directly at

[email protected]

I will entertain cash bids or trade services / barter for website creation / internet marketing / SEO services. I have been in business for over 8 years and in this field in New York City, Los Angeles, and Nashville since 1997.
You may also use the form below for referrals if you know someone who does these things.