General Mills Watch and Play Sony Watchman Giveaway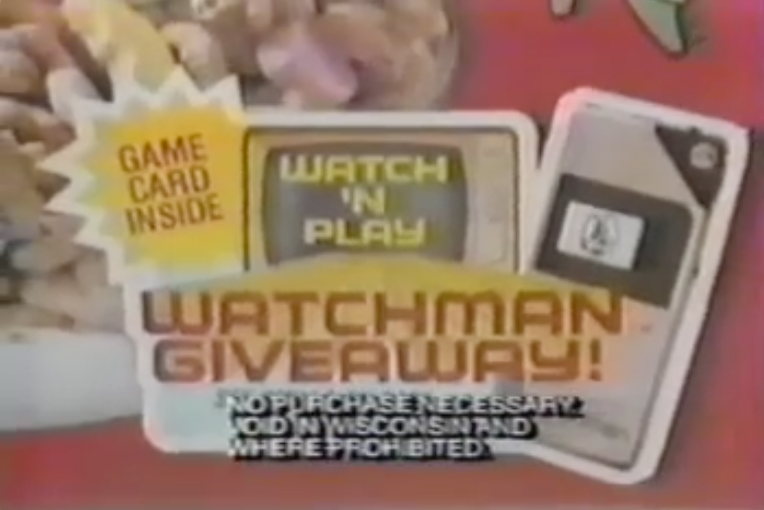 Did you ever win anything from a cereal box contest? I did in the 1980's. I won a stuff Shamu from a Sea World / Honey Combs sweepstakes. I tried to do what many kids tried in the 1980's – I tried to watch and play to win a Sony Watchman TV through a General Mills Cereal Contest.
I must have mailed off for at least 20 no-purchase entries. Mailing off for entries required writing up your name, address, and other information on a 3×5 card and mailing it off (at your cost) to the sweeptstakes. As a kid 20 entries was a lot to mail off for. There was an on-air announcement with the winning game pieces.
I never did win but it's been nice looking back. The TV's are on Ebay these days. The funny thing is you can still power them up but you can't watch anything due to the Digital TV changeover in the United States.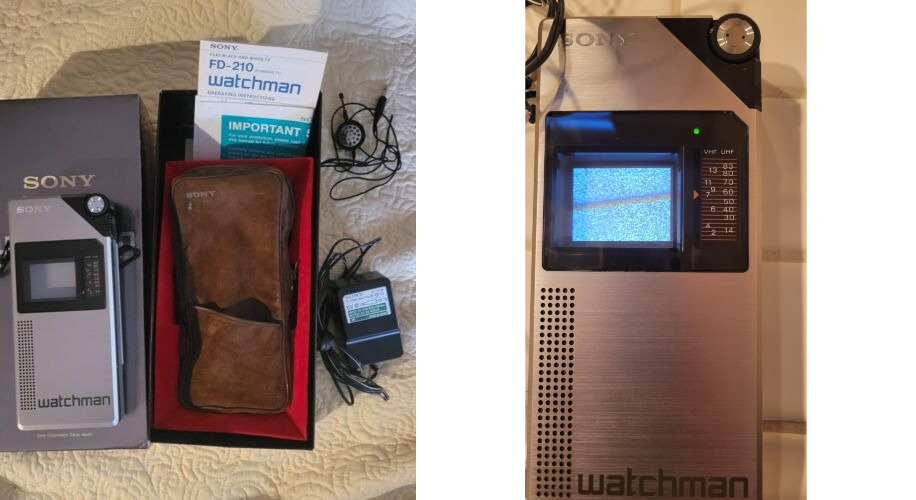 The digital transition in the United States was the switchover from analog to exclusively digital broadcasting of terrestrial television programming. According to David Rehr, then president and CEO of the National Association of Broadcasters, this transition represented "the most significant advancement of television technology since color TV was introduced."[1] For full-power TV stations, the transition went into effect on June 12, 2009, with stations ending regular programming on their analog signals no later than 11:59 p.m. local time that day.[2]

(Wikipedia)
You can still power it up and see static but that's about it. The nostalgia is in touching and feeling what you wanted as a child but never could achieve.
This dialogue from the 1996 film Star Trek: First Contact says it best:
Captain Picard and Commander Data have just discovered a ship of the past, the Phoenix.
Captain Jean-Luc Picard: It's a boyhood fantasy… I must have seen this ship hundreds of times in the Smithsonian but I was never able to touch it.
Lieutenant Commander Data: Sir, does tactile contact alter your perception of the Phoenix?
Captain Jean-Luc Picard: Oh, yes! For humans, touch can connect you to an object in a very personal way, make it seem more real.

Star Trek: First Contact
Perhaps one day I shall indeed be connected to that object in a very personal way.
Other Fun Sony Watchman Videos
Works Cited
Digital Television Transition in the United States. Wikipedia. Retrieved from: https://en.wikipedia.org/wiki/Digital_television_transition_in_the_United_States
Moore ; produced by Rick Berman ; directed by Jonathan Frakes. Star Trek First Contact. Hollywood, CA :Paramount Home Entertainment, 2009.