The Marketers of Oz: How the 50th Anniversary Release of the Wizard of Oz on Home Video was a Marketing Score.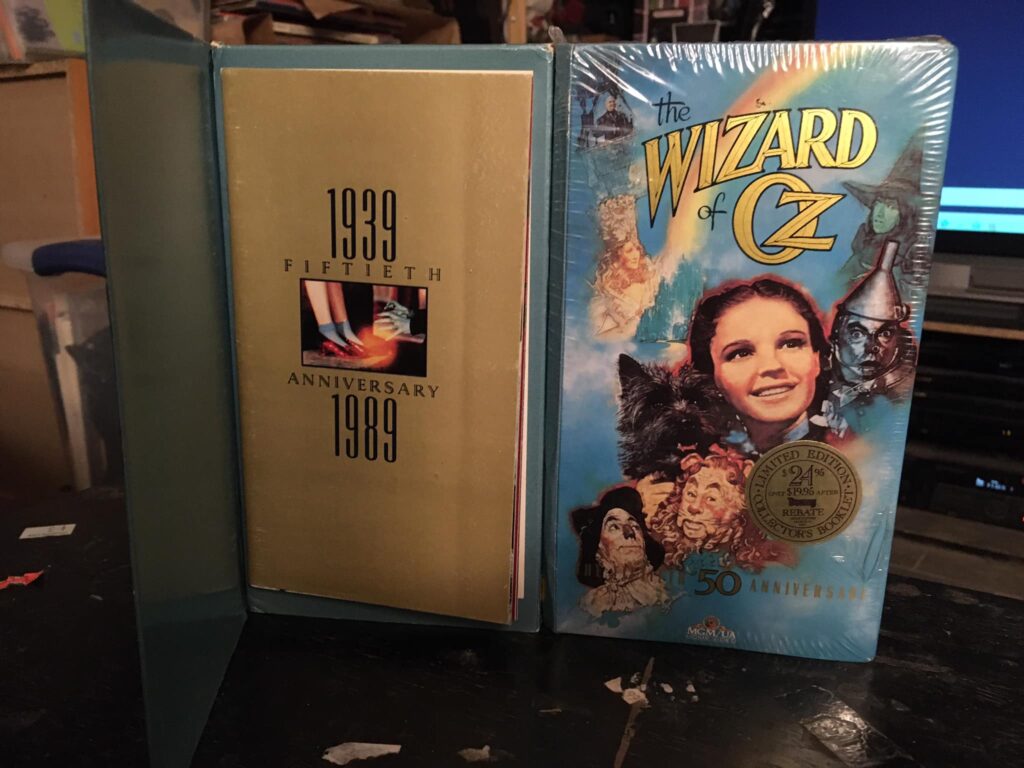 In 1989 how did Turner Home Entertainment get people to buy one of the best selling VHS movies yet again after selling 2 million copies already? With projections of 300,000 units how did they move 3 million more instead? This is a great article on a quality product and genius marketing.
In 1989 The Wizard of Oz film had been released on home video several times however with the 50th anniversary coming up, there was an opportunity for a refresh and marketing coup. The film had been released on VHS, Beta, CED VideoDisc and LaserDisc in various releases. What value could be created to get it sold once again?
MGM however found a very creative way to create a value that people would never see or realize in terms of price. They would also get consumers to purchase something that had already sold phenomenally. But what value could be added to get something that had sold phenomenally to sell again?
"…it was estimated that THE WIZARD OF OZ had sold – by late 1988 – nearly two million copies."

(Fricke, MGM's the Wizard of Oz at Fiftty – Via VHS & Downy, Oz Museum)
MGM realized a fundamental truth about creating value – presenting the value and realizing the value are two very different things. It sounds impossible right? How different?
They offered a mail-in rebate for the 50th anniversary VHS with a caveat – the check a customer received would not be a standard paper check but an artistic certificate / legal check that would look so nice it would be saved not redeemed, thus all the unredeemed funds would be profit. The value of bringing the film price down to $19.95 was created but the realization of the value -redemption – was not. It was a score in unredeemed rebate money for MGM.

"Finally, Procter & Gamble entered the mix, underwriting aspects of the product in exchange for a brief, new, Oz-related Downy Fabric Softener commercial at the onset of the tape. They also offered a five-dollar price reimbursement to those who purchased the video; it was Rick Skye's clever suggestion to them that they make the rebate certificate so beautifully and Ozzily designed that most buyers might opt to retain the colorful document rather than submit it for the cash return. (It worked!)"

(Fricke, MGM's the Wizard of Oz at Fiftty – Via VHS & Downy, Oz Museum).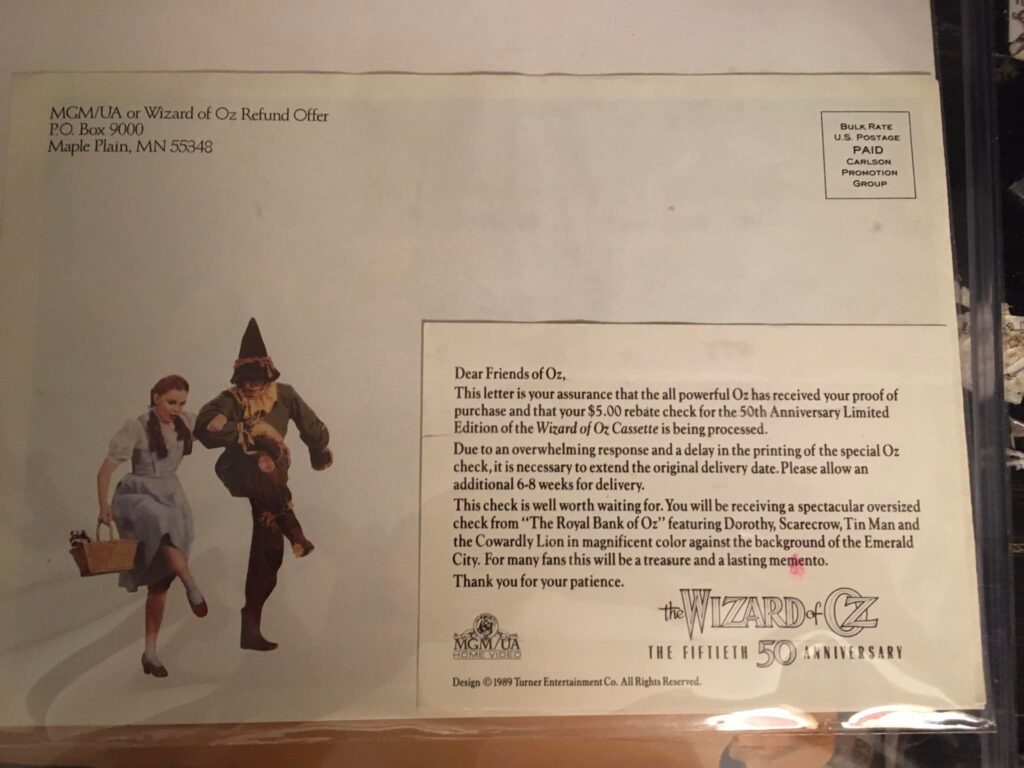 The rebate was more than just a collectible. It was an entire marketing campaign that drove sales of Downy and the home video across the period's formats.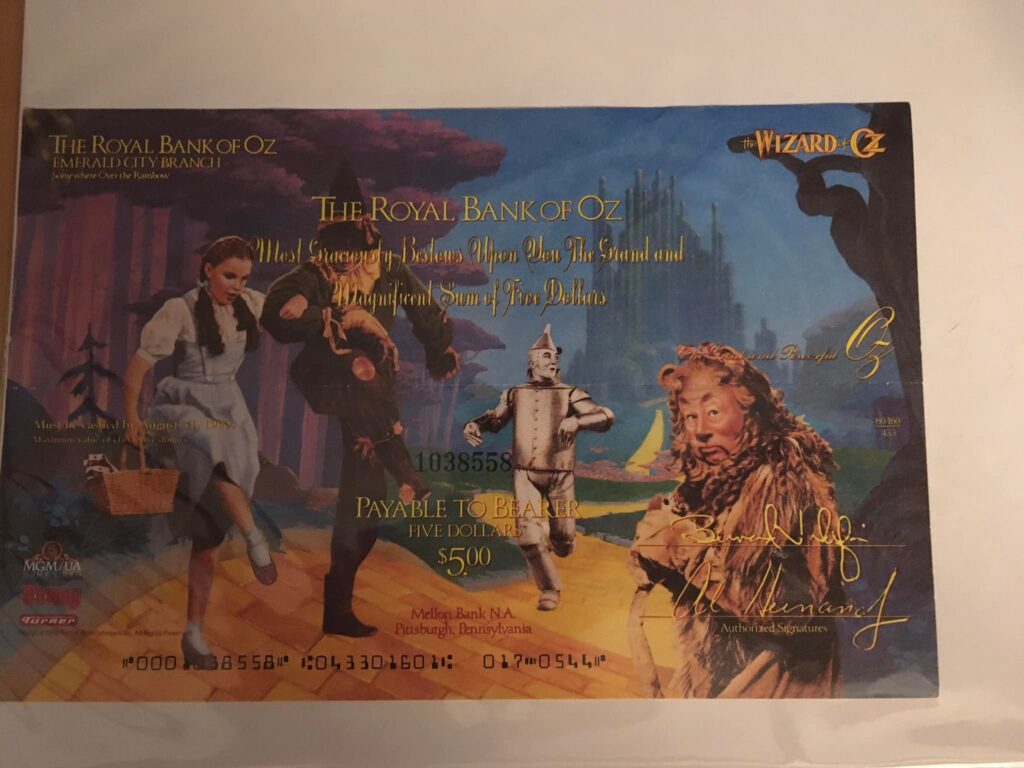 "Downy will also mount a TV campaign featuring a young girl, 50th-anniversary collector's edition in hand, who enters Oz only to discover that its citizens "are singing about Downy to the tune of 'Merry Old Land of Oz,' " says Downy. As if to make amends, Procter & Gamble, Downy's manufacturer, will also offer a $5 rebate coupon bringing the cassette price to $19.95 — the price on the standard "Wizard" cassette for the last several years."

(Spain, 1989. New Look to the Old Oz. Washington Post.)
The new release which was available in VHS, Beta, and Laserdisc offered some new bonuses. Attached to the VHS and Beta was a booklet. There was also a 17 minute featurette attached to the presentation on all 3 formats.
Special Thanks to:
The Great Escape in Madison (Tennessee), Hitchhiker Toys in White House (Tennessee), Ebay sellers Marshotel and aflomoviefilm.
Works Cited
New Look to the Old Oz. Spain, Tom. June 8, 1989. The Washington Post. Retrieved from: https://www.washingtonpost.com/archive/lifestyle/1989/06/08/new-look-to-the-old-oz/1b1c2169-b02b-4495-bdf3-5eeccc3e8cac/
MGM's Wizard of OZ at Fifty – Via VHS and Downy. Fricke, John. Oz Museum. Retrieved from: https://ozmuseum.com/blogs/news/mgm-s-the-wizard-of-oz-at-fifty-via-vhs-downy