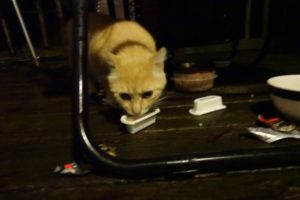 Have you helped a stray kitty or found a colony come to you? Do you ever wonder how to handle the kitty that just comes up to your door but doesn't stay long enough or get close enough for you to pet – yet continues to look hungry and appear scrawny?
There's many resources available and the strongest ones are often tied to cat rescue groups. They exist in many communities. If you search Facebook for 'lost pet groups' in your community they can most certainly connect you with rescues. In addition you can check the North Shore Animal League's website for animal rescues.
It's always good to find some local resources. You will find most community have a list of resources in your immediate area of varying levels. In Nashville, TN they have SafPaw, Nashville Cat Rescue, Fluff, and many other resources for rescuers to tap into.
There are also a few books that have been written about the cat rescue experience both from the rescuer's perspective and the cat's perspective:
Rescued: The Stories of 12 Cats, Through Their Eyes
Rescued Kitties: A Collection of Heart-Warming Cat Stories
Alfie the Doorstep Cat
Just to name a few.  If you find you have time and form a relationship with the cat you may wish to do 'TNR' – Trap, Neuter, and Release. What you will need is a veterinarian or community pet center that does low cost spays / neuters for rescues or has TNR program, A trap like the Havahart 1099 Feral Stray Cat Rescue Kit
, a spare room or bathroom to put the cat in, and some time.  You bait the trap with some sardines, wait out of sight for kitty to walk in, and once kitty is trapped, you bring kitty inside. You keep kitty in the trap until it's time to take kitty to the vet or center for fixing, and then 24 hours after you get kitty back, you release kitty or if kitty can be socialized and you  desire it, keep kitty, but the general idea is to send kitty back out so other kitties don't claim your kitty's territory.
If kitty is friendly and adoptable, the rescue groups can often connect you with adoption resources to adopt kitty out.
The rescue community is an amazing one.