An Open Letter to John DeLancie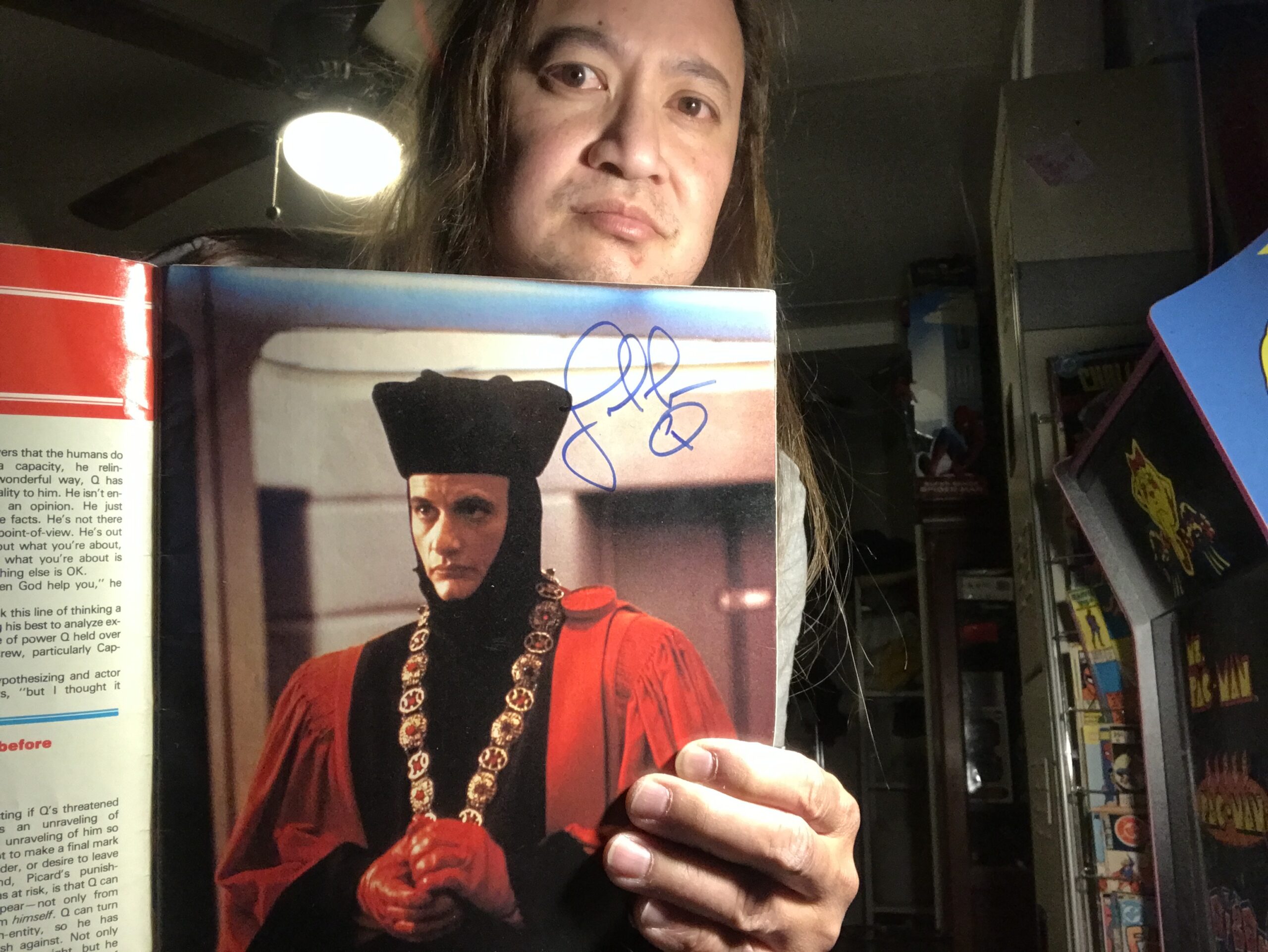 An Open Letter to John DeLancie:
I recently saw an advertisement on Facebook for John DeLancie appearing at an Indiana Comic Convention from April 15-17, 2022. Indiana isn't a bad drive from Nashville, TN but for many reasons including previous obligations, I can't make it. But I thought about what I would tell him if I could make the drive and attend the convention:
In the late 1980's I was in my early teens and enjoying a television show called Star Trek: The Next Generation. In the series pilot, the crew of the new starship Enterprise encounters an alien called "Q" and stands trial for the crimes of mankind. "Q" was played by actor John DeLancie, an actor who would have an impact on my life.
I was just beginning my life when I met John DeLancie at a Dreamwerks Star Trek Convention in the late 1980's. This was a time when Creation Conventions reigned supreme but Dreamwerks came to my city, Harrisburg – the capital city of Pennsylvania. John DeLancie was the first Star Trek actor I ever met and the first actor I ever heard give a 'talk'. His talk impacted my life.
John DeLancie talked about many things but what stuck with me was his discussion of life as an actor. He challenged us to consider the times an actor works as the time they are an actor – and to ask what one is when they don't have an acting job. He called it being 'unemployed'. He compared it to that of a plumber – who is a plumber when they have jobs. Otherwise they are unemployed. That stuck with me throughout life. I believe it impacted the beginnings of my work ethic.
I would go on to live a very full life in between the time I met Mr. DeLancie and the time he returned to the franchise in Star Trek: Picard. As I saw him on my screen at the end of Episode 1 of the second season premeire of Star Trek: Picard, I realized not only how much time had gone by for the characters of Picard and Q but how much of my own life I'd lived.
In the time since I first met Mr. DeLancie, I had done so much vocationally. I'd gotten my first job at Boardwalk Fries in the Capital City Mall. Not satisfied with just one job, I got quite a few in the local mall – working them at the same time. My senior year of high school I worked night crew at Toys R Us while finishing my senior year classes during the day. After graduation I started working full time and going to school. Eventually I got involved in the music industry and left for New York City (before and during 9/11 – and for 5 years after) where I worked for a Fortune 100 financial services company while working part time developing my own music marketing business. But that was just the beginning.
Understanding self-employment, I moved to Nashville, TN where I developed my own internet marketing business, helped run a film company which took me to Atlanta, Austin, and Los Angeles on shoots – one shoot let me work and have dinner with Star Trek Discovery's Doug Jones. I eventually made my internet marketing company my full time job. I'd never forgotten that I am a self-employed business owner as long as I have client work, otherwise I'm unemployed.
I've lived a life outside of my business. I've adopted a daughter becoming a single adoptive dad – somewhat of a unicorn. I've worked helping orphans in Africa, animal rescue in Nashville, and the homeless in Los Angeles, NYC, and Nashville. I am currently helping an organization with boots on the ground in Ukraine evacuate Ukrainian refugees to safety. It's been a full life.
As I enter the final season of my life, I realize a lot as I watch this season's Star Trek: Picard. I can see actor John DeLancie in character as Q and realize I've lived a good life. I was just beginning to explore life and the world when I met him and it's been a good ride since. To him I express my appreciation. Thank you, John DeLancie, for having an amazing impact on my work, my business, and my life.