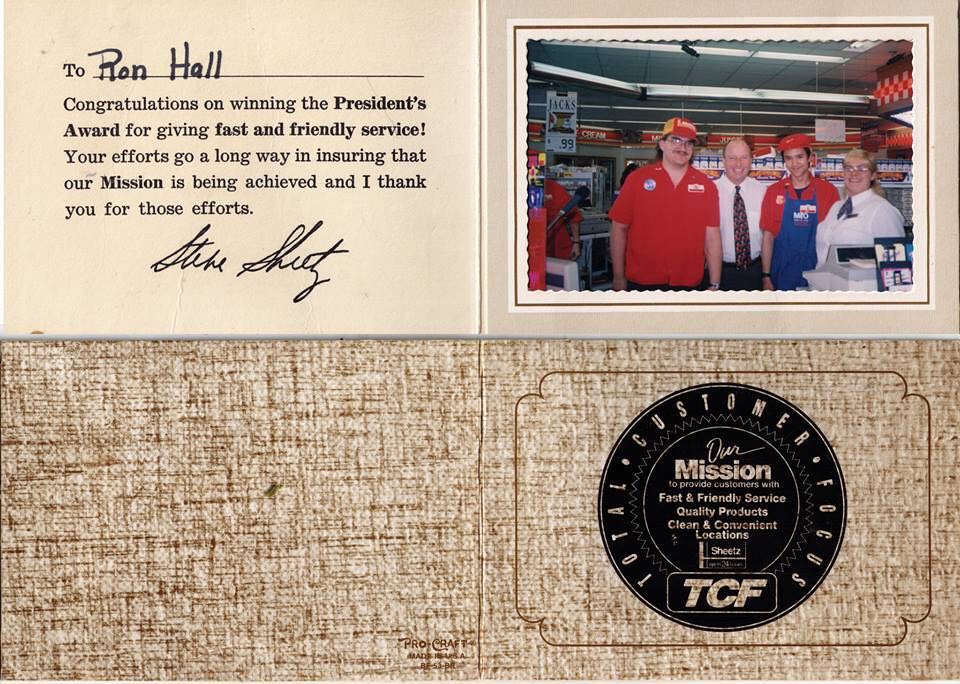 In the early 1990's I got a job at the convenience store Sheetz. I worked at a location off Second and Forester St. in Harrisburg, PA and off Carlisle Pike and 114. It was a time unlike any other in my life.
I just barely remember interviewing. I recall there was an employee there that really wanted to see me hired but I don't recall his name. All I remember was that he was African American and incredibly kind & supportive. But even his support wasn't enough for the rocky road ahead.
I wasn't very fit for the inner city at that time in my life. I had what could only be considered a troubled time at Store 112 in Harrisburg, PA. It was rough but I do remember some good times. There was an employee named Ryan who held a record for number of hours worked consecutively. I came close at 22 or so but I think he worked 24 straight. There was Tasha who I remember worked pretty hard. I remember two sisters, Erica and Eunieka (Nieka) Simms who were vrey funny.Barry was a neat guy with a lot of personality. Shabonna Springs would make my breakfast Schmuffins, John Decker, a manager who taught me how to clean my glasses, Kimmie, a manager who was pretty high energy, and Doug – a manager who said to me once that the things that mattered were the people he loved, the people who loved him, that he loved God and God loved him.
I ended up doing shifts at Store 114 in Mechanicsburg, PA because Harrisburg just wasn't a good fit at the time. I was working through a lot so I ended up of all things doing dual shifts between the two stores. At the Mechanicsburg store I worked for a woman named Peggy and at that time got to meet Steve Sheetz, one of the owners. There was a woman we all called 'Mom' who made 'Gary's sub' and another woman named Terri Miller who always kept things moving.
It was a crazy time in my life, working 3rd shift in the city, then commuting to the suburbs for 1st shift, often sleeping a little bit in between. I lived within walking distance of the 3rd shift store, so it wasn't all as crazy as it could have been. But it was still a lot of work.
By the end of the experience though I had learned how to get along in the inner city and in the suburbs. It was a wild ride to say the least. I have never forgotten a few things:
It's harder than you think to make sandwiches in the Made to Order environment.
When you wrap a hot dog just…hand it and hope they don't open it before they leave – I made some pretty bad ones.
When you have money it's Marlboros, when you don't have money it's Basics and when you REALLY don't have money it's Jacks.
You will see people at 5pm when they get off work, 2am when they get out of the bars, and 7:30am when they are on their way to work. You may even see them with different people. Or dressed as a tree in one case.
You can never have too much coffee as evidenced by the number of cups you drink to keep going round and round the coffee island trying to keep those pots going during breakfast rush.
The people that you think least are on your side, will totally stand by you – I learned that in the Harrisburg store as it was a rocky start but an incredible finish.
A lot of life has happened since 1995 when I worked there. I lived in NYC as the towers fell during 9/11, travelled the world working with AIDS orphans in Africa, I co-led an outreach to inner city kids in Nashville, worked in the music industry in NYC and Nashville, legally adopted an african american girl, and started in animal rescue. I also run my own company now. It's been a while since I looked back at this time in my life but I wouldn't trade it for anything in the world.
When I go to Burger King, I ask for onions on my Croissandwich and a pack of ketchup. It's the closest to how I had my Schmuffins made in the 1990's. Memories. This kind of time only comes once in your life. I can still see crazy Ryan smiling knowing how clueless I was, I can feel Doug's compassion and see Shabonna's smile. I was so in over my head. But I wouldn't trade it for anything in the world. It was 1990 something, and some pretty good memories.