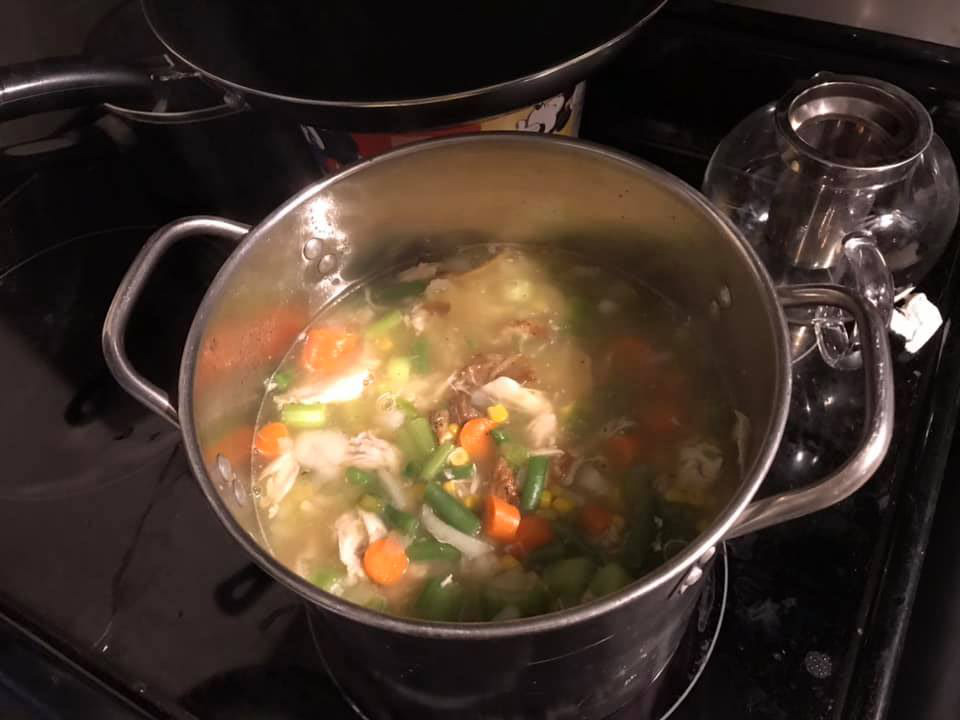 I never understood why I couldn't find "Chicken Corn Soup" outside of where I grew up, Harrisburg Pennsylvania. I later learned, decades later, that the soup was a dish of the Pennsylvania Dutch. There was a canned version, "Aunt Kitty's Chicken Corn Soup" (now distributed by Hanover Foods), as well as freshly made versions at the grocery store. Living outside Pennsylvania, I finally decided to create my own.
Here are the ingredients:
1 pack of full fresh organic carrots
1 Organic Celery Stalk
1 Organic onion
1 good handful of fresh green beans
2 packs of organic corn (This is your one cheat and you will be thankful for it)
1 fully cooked chicken (you will have needed to cook the chicken ahead of time).
2 packs of organic chicken broth
1 container of bullion / better than bullion, salt, and pepper (for taste adjusting)
Steps:
Put the cooked chicken in a stock pot or other large cooking container on the stove top. Pour in any broth generated from cooking the chicken (if any) into the stock pot.
Add water to cover the chicken and heat on the stovetop for 10-15 minutes.
After 10-15 minutes, start pulling the chicken off the bones inside the stockpot / container. Discard bones. What you have remaining is chicken and chicken broth from having allowed the cooked chicken to warm inside the pot with the water.
Chop the carrots, celery, green beans and onion, then add to the pot.
Add 2 packs of corn to the stock pot. Stir.
Continue to heat the chicken, broth, and veggies. Add the organic chicken broth as needed to bring water level over the veggies and use bullion to adjust the taste to your liking along with salt and pepper.
If you want something a little healthier make and cook turkey meatballs from ground turkey instead of chicken, but be sure to add egg to the ground turkey before you roll them so the meatballs stick together. In this case you will definitely need the organic chicken broth because you won't have the benefit of the chicken-in-the-water trick
I will tend to cook this relatively slowly (medium) on the stove top until the veggies are nice but still crunchy. I try not to emulsify the veggies as they are great in the soup while still crunchy and not fully soaked. What you end up with is an incredibly fresh tasting chicken corn vegetable soup.