Valvoline Instant Oil Change White House TN Gone Wrong?
The Case of the Oil Pan Plug
During a routine oil change on September 27, 2021 the staff of the White House, TN Firestone discovered that the drain plug conduit was stripped due to the drain plug being put in too tight on the previous oil change. The drain plug could not be put back in.
I had several oil changes in recent history: June 18, 2021 at Valvoline White House, July 9, 2021 at Valvoline White House, August 19, 2021 at Firestone, September 9, 2021 at Valvoline White House, and September 27, 2021 at Firestone.
I called the previous oil change company who handled it earlier that month on 9/9/2021, Valvoline Quick Oil Change of White House, TN. They spoke to Firestone and subsequently called back asking what size / type oil pan I use. I thought it would be handled by Valvoline at no cost to me after the call. It seemed a repair was in motion.
On Monday 9/27 around 5:30pm I was called by Jennifer Christy, manager of the Valvoline Quick Oil Change in White House Tennessee where she stated a repair would not be authorized. She stated that the employee who performed the oil change, Christian, is witnessed on a recording discussing the issues with the oil pan plug being overtightened on the oil change on 9/9/2021 but the oil pan plug was subsequently put back on and torqued to Kia's specifications. She stated that could be seen on the recording.
I asked why I was not notified of this issue at the time. She declined to provide an explanation. She did note that in June a notation was placed on my service record that I was notified there could be oil pan issues but did not elaborate what they were. Subsequent visits to both Firestone (August) and Valvoline (July, September) made no further notations of any issues and the Firestone staff has stated they did not see any issues on August 19, 2021. I have a 2001 Camaro that leaks oil and any time anyone touches the car there is a notation made that it leaks oil, even if it's the same service provider twice in a row. Firestone has also stated they would have reported the issue on 8/19/21 if it had been observed.
I sent an email to Jennifer Christy on 9/27/2021 stating '"The oil plug was plug was overtightened on arrival and nothing was forced in the oil pan"
When I asked why the plug being overtightened on arrival wasn't brought to my attention you advised me you didn't know. That is the discussion you said was on video and you stated you have video of the plug being tightened to Kia's specifications thereafter which would close this investigation.'
Firestone looked at this on August 19. 2021 and saw no issue with the pan or plug.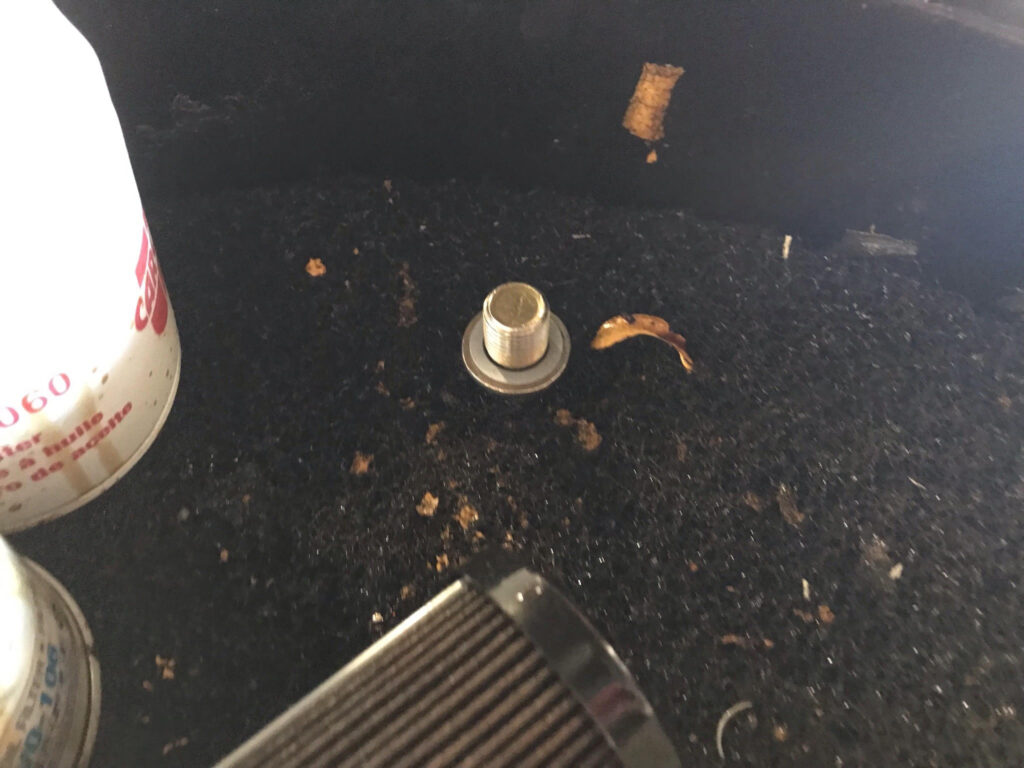 Their question for you is this:
When Christian found the plug overtightened and it necessitated a conversation, why was it not brought to my attention so I could take it back to Firestone where the pan would be examined from their last oil change on August 19, 2021? Instead the Firestone employee said the plug should not have been forced back in – Christian should have stopped right there and asked what I wanted to do, i.e. take it back to Firestone and have it fixed properly if they indeed were the ones that overtightened it on the 19th. Firestone stated that if you had brought it to my attention then we could have had the car brought back over to Firestone (since it's right up the street) and determined who was responsible but because you performed the work and jammed the plug back in, it falls on you.
They stated it falls on you if you didn't tell me there was an issue that day (September 9, 2021) and just proceeded then overtightened the plug which what they say was the case.
The June notation you brought up wouldn't excuse not advising me on September 9, 2021.
Please advise via email so I have this in writing.
She replied on 9/28.2021 at 8:51pm:
Yes sir. The plug was tightened to Kia'a specification and came in over-tightened. We have all of that on camera. It torqued down to spec. The investigation on our end is closed.
To me at least Jennifer was short with me, was not willing to even entertain the possibility that something went wrong during the oil change on 9/9/2021 due to the presence of video and the torqueing of the plug. She also stated separately that in a he-said she-said I'd most likely be the one paying for an entire new oil pan. She stated that that's just the way it is sometimes.
I have not re-engaged Jennifer but here is my issue:
It's not an issue of it being torqued, it was torqued when it came in. They put the plug in there when there were damaged threads and there is video of them congregating figuring out what to do and they did it without notifying me or Firestone. There wasn't a drain plug gasket on there and the threads were damaged when they put the plug in. They decided to make the decision to put the plug in there with no gasket and because of that, Firestone couldn't put the plug back in.
The focus isn't on how tight the drain plug is, that's irrelevant because the threads were damaged. It is impossible to damage those pulling the drain plug out. The right thing to do is to let the customer know they were damaged at the time and let me know what to do. It would have allowed the car to be brought back to Firestone for examination as well as the Valvoline team an opportunity to. examine what happened. The two places are .4 mile apart.
My biggest issue is the attitude differences between the companies. At Valvoline it sounded like Christian was going to facilitate a repair before Jennifer got involved. Jennifer was short, curt and defensive stating she had this video footage and the investigation was closed. I would have to pay for a new oil pan.
Over at Firestone they speculated that I may never know who damaged the pan because Valvoline just put the plug back in without notifying me and sent me on my way. They stated if it was determined at the time it was Firestone the pan would have been replaced free of charge and even now they are trying to find a way to help me somehow.
One company – Valvoline – goes on the defensive, folds it's arm and says 'case closed, it's not us' without entertaining even the possibility something went wrong while the other company – Firestone – says "what can we do to try to help you through this"?
I put 3,000 miles on my car each month and do oil change stops monthly. I have been a valued customer of Valvoline or at least I thought. As a person of color in a predominately white area of town, I seek businesses that will treat me fairly. I already have endured anti Asian racism at the local hair salon. I thought Valvoline was a place of integrity and respect. But I have fond my encounters with the Valvoline staff AFTER this incident to be less than courteous and respectful.
I am requesting this investigation be reopened and my oil pan be replaced at no charge at Firestone with the cost being covered by Valvoline. I do not want Valvoline touching any of my vehicles ever again. I own a 1990 Mazda Miata and a 2001 Chevy Camaro in addition to my primary vehicle and after this incident none of my vehicles are going to return to Valvoline.
The saddest part is this is a $400 repair which is a lot for a customer to shoulder but for Valvoline employees, management and corporate it will not take very long in working hours to spend more than $400 in employee / management / customer service trying to dispute this. Is it more important to be right or to make a customer satisfied when at best due to your own actions, it may very well be ambiguous?
My desired outcome is for Valvoline to pay for the repair since they were the ones who discussed the issue on September 9 but failed to disclose it to me so I could have it looked at before the next oil change. I would also like them to have the attitude of "how can we help this customer" as Firestone did, not "CYA and protect the employee" like Valvoline did. Valvoline is not even open to the possibility they may have caused this.
Update 10/6/2021: We received a call from Valvoline where we were advised the case was reviewed again and due to the ambiguity of the situation, Valvoline woudl pay for the oil pan replacement. We consider this review closed.