Chick-Fil-A Madison Rivergate: Person of Color Feels Intimidated by a White Chick-Fil-A Franchise Owner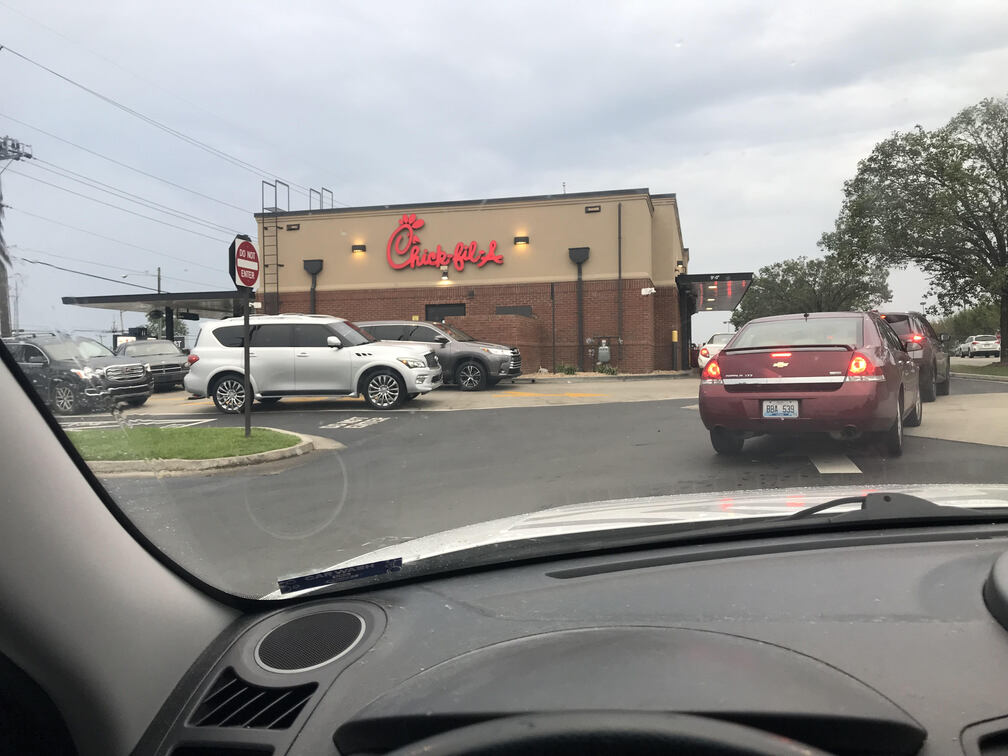 A Letter to Dan Cathy, and the Chick-Fil-A Executive Team
I received a gift card for Chick-Fil-A and decided to visit on 10/2/2021. I pulled up to the location and saw the line wrapped around for the drive through. I followed the nearest car in what I thought was the end of the line.
As I approached the area where employees were taking orders, a man approached and asked me to tailgate the car in front of me. I advised him I was not going to because it could cause an accident (if the car in front of me bucked, hit reverse by accident, etc). I have not had an at fault accident in over 20 years and recently got hit by a piece of flying wood on the highway. I advised him I already had some body damage on the side of my car. He yelled at me about me not being able to read. Is the implication that because I look like a foreigner I can't read english?
I do not normally come to any Chick-Fil-A so I do not know the flow or protocol. Knowing Chick-Fil-A trades on a faith based customer service I said it wasn't very "Christian" of him to yell at me like that. He just laughed and walked away (camera footage should be able to verify his laughter as he walked towards a Chick-Fil-A vehicle in the parking lot). His name was "Todd" according to the name tag and he dared me to take his name down and his picture.
I called in to the restaurant and spoke to a manager where I was advised Todd was the franchise owner of this location. Then as I'm on the phone Todd comes out – while I am with another employee placing my order – I don't know Chick-Fil-A at all so I just had the employee pick a meal for me – and Todd berated me about blocking something and intimidated me storming off yelling with hostility: "If you're a Christian, you'll forgive me" yelling it as he went inside again- grumbling it as he walked back inside the store – very angrily. Well I never said I was a Christian. Is this how non-believers are treated at Chick-Fil-A? Another employee witnessed this though since he is the franchise owner, effectively her boss, I doubt she will confirm the story.
I got disconnected and called again this time to the store director. He stated that Todd was the franchise owner and that there's nothing he could do. So he gave me the corporate phone number. I said to the director, "I guess he (Todd) controls all of you" to which the store director did not deny. Todd tried to approach my car again but by this time I felt threatened and intimidated. I did not feel safe. I didn't know if I should open my glove compartment and prepare to protect myself or call the Metro Nashville Police Department for help. I simply put my windows up and pulled forward. I did feel threatened after the previous two encounters. As a person of color and Todd being white I wasn't sure if it was my race that made him feel entitled to keep trying to start something with me.
I called customer service and they advised me they would forward to the Franchise Relations department and they would get back to me. I advised them I did not want to go back to the store level.
An hour later I got a call from the store level from the customer cares coordinator of the local store, Katie, who stated any call to corporate would get routed back to the store and there was no way to escalate this above the store level no matter what. The store level customer cares coordinator said all of my story did not come through so I told her the story and she rushed me and said "What is your end game?" – that's a fairly confrontational question, not a peacemaking action – being treated fairly is not a game. She acted like I was after something. I simply stated I wanted to speak to someone from the Franchise Relations and not be relegated back to the store level. She said that would not be possible.
So what is it I want? I want to be treated fairly at Chick-Fil-A should I ever go back and visit. I don't want to be berated – whether it's because I'm a person of color or because I don't know the flow of the overpacked drive through. I don't want to be sent back to the store level and although from the store director's conversation, the franchise owner is God to them, I want someone to hear what has happened here – someone above the store level. Because Todd was very condescending, hostile and one step away from me calling Metro Nashville Police for protection.
I have NOTHING to gain by seeking a dialogue with corporate. Being a person of color I have everything to lose via retaliation. I have had to deal with racism in Nashville as well as anti Asian sentiment since COVID-19 hit the United States. So I have nothing to gain by running this up the Chick-Fil-A flagpole. But I want someone at Corporate who manages the Franchise relationship or above to speak to me and hear what I have to say.
Update: On October 5, 2021 after numerous emails to Chick-Fil-A Executives we received a call from Blake Sundberg, a business consultant at Chick-fil-A according to Linkedin. Mr. Sunberg apologized on behalf of Chick-fil-A and did not offer an alternate version of events. I advised Mr. Sundberg that I was not after any kind of compensation or gift card – only that I wanted to be heard and that after emailing this page to Chick-Fil-A executives I had Google Analytics report that visits came from the area where the executives are headquartered thus fulfilling my desire that executives hear of the experience. I consider this review closed.